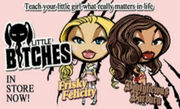 Little Bitches is a fictional toy series in Grand Theft Auto IV, The Lost & Damned and The Ballad of Gay Tony. According to a radio advertisement, the toys are small dolls or figures that represent various kinds of filthy women. Each figure has its own name, for example, Frisky Felicity and Bootylicious Barbara.
They are based on the Bratz toy line, which has courted controversy for marketing sexualised dolls to young girls.
Ad blocker interference detected!
Wikia is a free-to-use site that makes money from advertising. We have a modified experience for viewers using ad blockers

Wikia is not accessible if you've made further modifications. Remove the custom ad blocker rule(s) and the page will load as expected.