You may be looking for Weazel or Weazel News.
"Tenpenny set me up!"
―Little Weasel
Little Weasel is a character from the Grand Theft Auto series who appears as a minor character in Grand Theft Auto: San Andreas. Little Weasel, formerly from the Grove Street Families, is a member of the Ballas gang, especially from the Kilo Tray Set, who makes a brief appearance in the mission Doberman, where he is killed by Carl Johnson, on the orders of his brother Sweet. He is probably a high ranking member of the Ballas, as Kane, a high ranking Ballas member, attended his funeral and before being killed, he says "Tenpenny set me up!", and Tenpenny would not likely talk to low-ranking members. His funeral took place in the mission Los Sepulcros, which was disrupted by Carl, Sweet, and two GSF gang members; Kane and several other Ballas were gunned down during the funeral.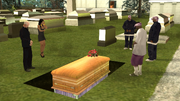 Mission appearances
GTA San Andreas
Trivia
[[es:Little Weasel|es:Little Weasel