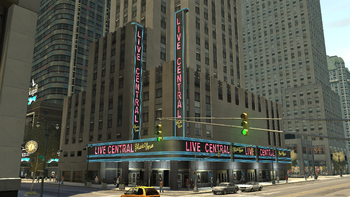 Live Central Music Venue is a Liberty City theater located at the Columbus Center in Grand Theft Auto IV and Grand Theft Auto: Chinatown Wars.
Description
Live Central Music Venue is located at the corner of Columbus Avenue and Lorimar Street in Star Junction, near the Hatton Gardens neighborhood in Algonquin. It is based on Radio City Music Hall which is at the Rockefeller Center.
Trivia
In the Beta of GTA IV, the venue was titled "Bleep Central".
Ad blocker interference detected!
Wikia is a free-to-use site that makes money from advertising. We have a modified experience for viewers using ad blockers

Wikia is not accessible if you've made further modifications. Remove the custom ad blocker rule(s) and the page will load as expected.