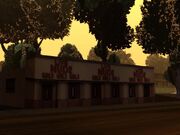 Live Nude Girls Girls Girls is a strip club located in Ganton, Los Santos, San Andreas. It is down the street from Denise Robinson's house. It also has a random vehicle spawn behind it. The club is inaccessible to the player and plays no role in the storyline whatsoever. Denise Robinson also mentioned she used to strip dance there before.
Ad blocker interference detected!
Wikia is a free-to-use site that makes money from advertising. We have a modified experience for viewers using ad blockers

Wikia is not accessible if you've made further modifications. Remove the custom ad blocker rule(s) and the page will load as expected.