| | | |
| --- | --- | --- |
| | This article or section needs to be cleaned up to meet the standards of GTA Wiki | |
Logging On is a mission given to Niko Bellic by his cousin, Roman in Grand Theft Auto IV. It also introduces computer usage, TW@ Internet Cafés, and the ingame internet. It is also the first appearance of Brucie Kibbutz.
Walkthrough
Head over to the taxi office in Broker and see Roman, who will be hanging out with a new meathead friend of his who just can't seem to stop exercising - Brucie Kibbutz. Roman tells Niko that he is annoyed that he can't send Niko e-mails.
Head over to the TW@ Internet Café on Oneida Avenue nearby. Get inside the TW@ location. You'll meet Alejandra, one of Roman's friends. Use one of the computers and get to the EyeFind Mail Service. Activate your e-mail account by replying positively or negatively to the introduction e-mail. You can spend some time browsing the internet or log out and leave the cafe.
Mission objectives
In order to complete the mission the player must:
Go to the internet cafe.
Go and speak to the assistant in the cafe.
Go and use one of the computer terminals.
Check your email
Reply positively to activate your account
Log off the computer terminal
Leave the internet cafe
Video Walkthrough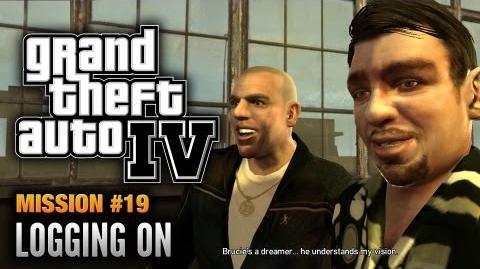 Afterwords
Niko will call his cousin to inform about getting on the line. He will respond on Alejandra's breasts.
Roman will call back asking for Niko to steal certain cars for Brucie over e-mail.
Rewards
Trivia
Before this mission, the woman who runs the internet cafe on Oneida Avenue, is not seen, and a man working there will be seen in her place. It is interesting to note, that the Internet Cafe that the women works at Oneida Avenue, is the only Internet Cafe she works at, as the other Internet Cafes are owned by male workers. ones with the same character model as the one before this mission.
This is Roman's 10th mission appearence.