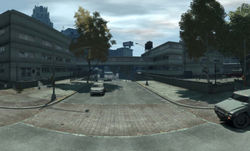 Long John Avenue is a street located in Leftwood, Alderney in Grand Theft Auto IV. The street is used in one mission, Flatline, for Jimmy Pegorino. A Cavalcade can be found in a driveway of a home located across the street from the Westdyke Memorial Hospital, which can be stolen for Stevie's Car Thefts. The headquarters of Gruppe Sechs is situated in this street just across the hospital.
Trivia
Long John could be a reference to "Long johnson" which is a slang for long penis.
This street name is a reference to John Lennon, who used the nickname, "Long John" when The Beatles were formed.
The street's name could also be a refrence to long johns, a slang term for long underwear.
The street's name is also a reference to the fast food restaurant, Long John Silver's.