Ad blocker interference detected!
Wikia is a free-to-use site that makes money from advertising. We have a modified experience for viewers using ad blockers

Wikia is not accessible if you've made further modifications. Remove the custom ad blocker rule(s) and the page will load as expected.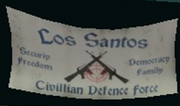 The 
Los Santos Civilian Defense Force
is an organization that is possibly led by
Colonel Fuhrberger
, based in
Los Santos
in the state of
San Andreas
. Its flag is seen hanging above Colonel Fuhrberger's bed in his room, in which it claims that its goals are "security, freedom, democracy, and family". The defense force is never seen in the game, but it can be assumed that it is one of the right-wing militia movements in the
United States
, based on its name, its tenets, and the fact that Fuhrberger is an anti-Communist war veteran.
Mission Appearances
Trivia
On the flag, "security" is misspelled as "securiy".
The Los Santos Civilian Defense Force is probably based on the Posse Comitatus or other militia movement groups, as it appears to be a constitutional militia based on its tenets of freedom and democracy.