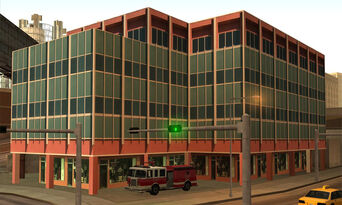 The Los Santos Fire Station is an SAFD fire station featured in Grand Theft Auto: San Andreas located in Commerce, Los Santos. This is the only fire station in all of Los Santos as the SAFD only has one fire station per major city in the State of San Andreas. This is the largest station in the SAFD by dimensions, however appears to house the least equipment. A Fire Truck spawns outside the building, where the player can trigger the Firefighter missions.
It is likely that the building was not originally intended as a fire station, as it appears more as a mixed use office-retail building with what could be shop fronts at ground level, lacking a bay for apparatus and any signage. Additionally, unlike other fire stations, there is no area at the front designed for vehicles. The engine spawns on a patch of land boarded by sidewalk. It is possible that it was used as a fire station as an afterthought.
See Also
Ad blocker interference detected!
Wikia is a free-to-use site that makes money from advertising. We have a modified experience for viewers using ad blockers

Wikia is not accessible if you've made further modifications. Remove the custom ad blocker rule(s) and the page will load as expected.