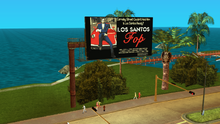 Los Santos Fop is an action film advertised on billboards in Grand Theft Auto: Vice City Stories. Motto of this film is "Carnaby Street couldn't hold him, is Los Santos ready?"
Main character on a billboard sits on comet hood.
Influence
Los Santos Fop name and poster parodied Beverly Hills Cop movie, released in 1984.
Ad blocker interference detected!
Wikia is a free-to-use site that makes money from advertising. We have a modified experience for viewers using ad blockers

Wikia is not accessible if you've made further modifications. Remove the custom ad blocker rule(s) and the page will load as expected.