The Los Santos Freeway is a highway in the game Grand Theft Auto: San Andreas.
Description
The Los Santos Freeway route 55 is a major highway connecting Los Santos with Las Venturas and Red County. The highway is a four lane highway with a wide median in Red County. But, in Los Santos it has predominantly a median with a concrete barrier, but at times it's like a curb with street lamps in the middle of the freeway for illumination at night. In Downtown it meets a short freeway to near Grove Street where Carl Johnson lives. Near the airport, for a short time, the median has two guard rails on each side keeping traffic to their own side, this is due to a tunnel upon which the freeway must encounter. The freeway ends briefly in Ocean Docks and becomes a major road through East Beach. Then, after clearing the docks and a few residential home (by way of traffic lights) it becomes a freeway again, on the other side of Red County. When it nears Las Venturas, it turns and heads west towards its starting point, while staying in Red County the second time around, which makes it a looped highway. Traffic on the freeway is often chaotic as drivers cut each other off and cause pile ups and eventually explosions when one or more cars over turn or when the player fires a rocket from a rocket launcher at the traffic. At that time, drivers will try and flee their cars before they explode, but usually they die in the process and then it sets off a chain reaction as drivers who didn't flee their cars try to outrun the pileups and subsequent explosions. Most times, they succeed. Sometimes, they fail and die whilst trying to escape. The traffic levels bounce off from time to time, as traffic tries to get where they need to go. Sometimes, it's an easy commute with little traffic, while other times it can be a nightmare with a lot of traffic, especially around the Los Santos International Airport area. 
Traffic
Most of the traffic on the Los Santos Freeway in Los Santos, itself is residential. By Los Santos International Airport, Buses and Coaches join the freeway along with other commercial vehicles. In Red County, the traffic is more rural and industrious as Linerunners frequently use this stretch of the freeway along with other semis.
Safety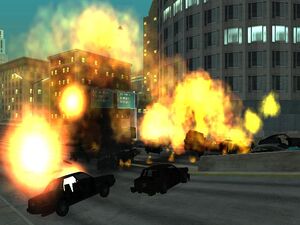 On average, the Los Santos Freeway suffers from more pileups than any where else in the state. When a pile up occurs, the emergency crews don't come to treat the injured unless there is a fire or drivers are dead and their bodies are strewn across the highway. The police don't block off traffic, so no one else can avoid the collision, so they too become a part of the chaos on the freeway. Then, as the police get caught up in traffic, they too will be rammed by civilians, causing the police to open fire and causing even more chaos. All of these issues are due to a lack of such actions being programmed into the game by Rockstar. Most pileups happen at the Mulholland Intersection  (the slope leading to the airport) due to fails of merging from oncoming lane ramps.
Exits
Here are some of the roads the Los Santos Freeway meets (freeways included)
The "northbound" route is the freeway going clockwise, the "southbound" route goes counter-clockwise.
The exits are listed in clockwise order.
Exit #
Exits
Destinations
Remarks
1
Palomino Creek 1

North: Harry Gold Parkway

West: Julius Thruway West, Bone County, San Fierro

East: Julius Thruway East

Half-clover interchange
2
Palomino Creek 2
East: Red County, Los Santos
Three-way interchange
3
Los Santos - Red County
Los Santos - Red CountyWest: Vinewood

Three-way interchange

4
East Beach

West: Vinewood, Mullholland Drive

East: El Corona

Four-way interchange
5
Playa del Seville 1
East: East Beach Freeway Extension

Two-way intersection

Southbound exit only

6
Playa del Seville 2
East: Los Santos Airport
Four-way intersection
7
Ocean Docks 1

West: Verona Beach

East: Los Santos Airport

Four way intersection
8
Ocean Docks 2
East: Ocean Docks

Four-way intersection

Southbound exit only

9
Ocean Docks 3
West: Ocean Docks

Two way intersection

Northbound exit only

10
Ocean Docks 4
East: Ocean Docks

Two way intersection

11
Verdant Bluffs
West: Ocean Docks
Four-way intersection with overpass
12
Los Santos Airport
North: Playa del Seville

A unique interchange with ramps on the southbound side and a road that forms a wye on the northbound side

13
East Beach Freeway Extension
West: Playa del Seville
Semi-direction T-interchange
14
Mullholland Intersection
West: East Beach
Four-stack interchange
15
Vinewood

West: Los Santos

East: Red County, Palomino Creek

Half-trumpet interchange

Northbound exit, southbound entrance

16
Red County

West: Palomino Creek

East: Los Santos

Half-clover interchange

Take to start the northbound portion all over again or continue northbound to exit 17

17
Julius Thruway
South: Palomino Creek
Four-way intersection
Trivia
The Los Santos Freeway is mentioned in GTA IV
In the beta version, the Los Santos Freeway was called Interstate 45.
The highway has a total length of 5.8 miles (9.3 kilometres), making it the longest highway in San Andreas.