"The Los Santos Golf Club is the one place wealthy men know they can get away from their wives, because they're not allowed to play. Women might have won the vote in 1920, but they're still not allowed on the course in Richman."
―GTA V Manual
The Los Santos Golf Club is a 9 hole golf course featured in Grand Theft Auto V. It is based on the Los Angeles Country Club.
Grand Theft Auto V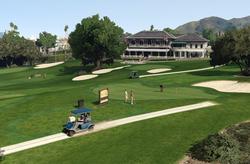 The golf club is the most expensive property that any of the
three characters
can buy in the game and in the entire series, costing $150,000,000 and generates a weekly income of $264,500.
To play a round of golf, walk to the front door of the clubhouse between 6:00 am and 6:00 pm. The entrance fee is $100.
Opponents
All three characters can play golf with each other as an activity. If the player walks alone to the front door, NPC members will be available for a game :
Todd Rosenweig (Easy)
Aaron Ingram (Normal)
Jeff Miller (Normal)
Glenn Mather (Hard)
Castro Lagano (Hard) - The player must complete his random event before Castro becomes available for golfing.
This location is part of the Strangers and Freaks mission Vinewood Souvenirs - Mark given to Trevor Philips. In this mission, Trevor must obtain Mark Fostenburg's golf club to Nigel and Mrs. Thornhill.
Grand Theft Auto Online
Despite claims that women aren't allowed on the course, female players can still play golf here in GTA Online.
Score card
The course only features 9 holes with a 36 regular par. Gimmes are accepted.
| Hole | 1st | 2nd | 3rd | 4th | 5th | 6th | 7th | 8th | 9th | Total |
| --- | --- | --- | --- | --- | --- | --- | --- | --- | --- | --- |
| Yardage | 531 | 436 | 168 | 340 | 435 | 235 | 416 | 541 | 361 | 3,464 |
| Par | 5 | 4 | 3 | 4 | 4 | 3 | 4 | 5 | 4 | 36 |
Vehicles 
Gallery
Trivia
The 69 in 169 yards on hole 8 is a reference to the 69 sex position, another example of Rockstar's crude humor.
If purchased, the property will take 568 weeks to turn a profit over the initial investment.
It was founded in 1992, the same year Grand Theft Auto: San Andreas was set in.
Similar to Los Santos International Airport, if the player flies low above the golf club, the air traffic controller will warn the player that they are flying over restricted airspace. Not complying with these warnings will result in a two-star wanted level.
Driving a road vehicle that the player is using and driving on the course will engage the player with a 2 star wanted level.
Even when you purchase the Golf Club, the Golf Club Business Card will not be in your stack of owned properties business cards on the Rockstar Social Club.
Each protagonist will automatically change into course-appropriate attire when starting a round of golf.

If the player owns the property, they can wear whatever they like when playing Golf.