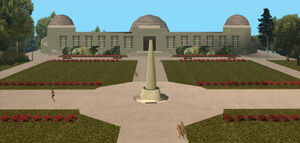 The Los Santos Observatory is a facility featured in Grand Theft Auto: San Andreas. It is a large, ornate building located atop the hill in the district of Verdant Bluffs in Los Santos.
Description
The observatory itself sits at the highest point of the bluff and offers excellent views westwards towards Verona Beach. A small park is situated in front of the observatory, as well as a medium-sized parking lot. A single entrance road running from Commerce provides the only access to the observatory. Although the observatory building cannot be entered, there are some stairs along the side of the building which lead to a balcony. The observatory is based on the real-life Griffith Observatory in Los Angeles, California. Even though it plays no role in the storyline, while doing the taxi driver side-mission passengers may ask to be taken here.
Weapons and Collectibles
See Also
Ad blocker interference detected!
Wikia is a free-to-use site that makes money from advertising. We have a modified experience for viewers using ad blockers

Wikia is not accessible if you've made further modifications. Remove the custom ad blocker rule(s) and the page will load as expected.