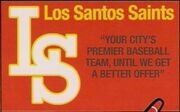 The Los Santos Saints or The Saints are a professional basketball and baseball team in Grand Theft Auto: San Andreas.
Basketball
The Saints play at the Los Santos Forum in East Beach, Los Santos, San Andreas. It is based on the real-life Great Western Forum (also known as the Los Angeles Forum), where the professional basketball team, the Los Angeles Lakers, played from 1967-1999.
Their uniforms are based on the Los Angeles Clippers uniform from 2001-2010. The name could be a reference to the professional baseball team Los Angeles Angels of Anaheim (known as the Anaheim Angels at the time of the game's release, also known as the Los Angeles Angels from 1961-1965), or the professional football team, the New Orleans Saints. The team is implied to be rivals with the Los Santos Dribblers.
The player can buy a #7 basketball jersey ($30), shorts (#60) and a chain ($25) at ProLaps. Also, Big Smoke's beta model and the statue of him in his crack palace both wear a #88 Saints jersey.
Baseball
The only reference to the Saints being a baseball team is in the game manual, showing the slogan "Your City's Premier Baseball Team, Until We Get A Better Offer", referencing the frequent moving professional sports teams did in the late 20th century.
Sweet Johnson is almost always shown wearing a green baseball cap with the 'LS' logo on it. The logo is almost exactly the same as the Saints' logo, implying that Sweet is wearing a green version of a Saints' hat. However, this could just be a hat representing Los Santos, not precisely the Saints themselves.