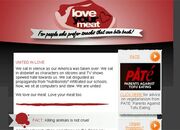 loveyourmeat.com is a website in Grand Theft Auto IV. The site focuses on both a love of meat eating and a hatred towards vegetarians. It lists reasons why meat is better than vegetables. Parents Against Tofu Eating (PATE) has a section in the website. The site, along with PATE, are parodies of the real life animal rights and pro-vegetarian organization People for the Ethical Treatment of Animals (PETA) . The website may also be inspired by real life www.pweeta.org, itself a parody of PETA; PWEETA stands for "People Who Enjoy Eating Tasty Animals." The website title's use of 'meat' is slang for the word 'penis'.
Ad blocker interference detected!
Wikia is a free-to-use site that makes money from advertising. We have a modified experience for viewers using ad blockers

Wikia is not accessible if you've made further modifications. Remove the custom ad blocker rule(s) and the page will load as expected.