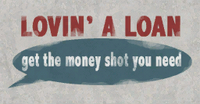 Lovin' A Loan is a loan company, based in Fort Carson, San Andreas. It has a secondary branch in Angel Pine, San Andreas. The company's slogan is: "Get the money shot you need". The name of the business may be a pun on the phrase "loving alone".
Due to the looks of the buildings, the company seems run down because of lending loans, and nobody paying them back.
The Angel Pine branch appears in the mission Photo Opportunity, where Carl Johnson and Cesar Vialpando use the stairs on the side of the store to access the roof and take photographs of various game antagonists.
Gallery
Ad blocker interference detected!
Wikia is a free-to-use site that makes money from advertising. We have a modified experience for viewers using ad blockers

Wikia is not accessible if you've made further modifications. Remove the custom ad blocker rule(s) and the page will load as expected.