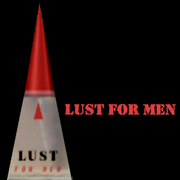 Lust For Men is a men's perfume advertised on a billboard in Rodeo, Los Santos. The bottle is shaped like a bottle of super glue, which makes it look like you are sniffing glue, which is highly addictive. The word "lust" is jumbled to "slut". This is the one of Rockstar's crude humor.
Ad blocker interference detected!
Wikia is a free-to-use site that makes money from advertising. We have a modified experience for viewers using ad blockers

Wikia is not accessible if you've made further modifications. Remove the custom ad blocker rule(s) and the page will load as expected.