"General purpose machine gun that combines rugged design with dependable performance. Long range penetrative power. Very effective against large groups."
―GTA V description on the Rockstar Games Social Club.

The Shrewsbury MG (Machine Gun) is a light machine gun making its debut appearance in Grand Theft Auto V.
Design
Grand Theft Auto V
The overall weapon design is based upon the PKM with a belt drum from the RPD, and short gas block, similar to the one found on AK-based weapons. The model lacks the bipod and carry handle commonly found on the PKM. The weapon being more modern than the PKM model, it is then more similar to a PKP Pecheneg. The MG does however feature a four-sided handguard with Picatinny rails on each side. The upper receiver also has a top picatinny rail.
The MG has an unusual 54-round drum magazine, with a mount that doubles the size of the trigger grip, having a larger profile than a standard LMG. However, it can be equipped with the "extended clip", as it gains a properly sized 100-round magazine.
Performance
Grand Theft Auto V
While is not very powerful as the Combat MG and carries less ammunition, it is powerful enough to take out a Police Maverick from medium range within a few shots and seems to be a bit faster, although accuracy and recoil will be a problem, due to the lack of a grip option.
Like the Assault Rifle, it is chambered in a 7.62mm caliber.
GTA V Overview



Weapon Statistics - Grand Theft Auto V

Damage
(per shot)

[?]

Fire Rate

[?]

Range
(m / ft)
Ammo Specifications/
Capacity
Reload Mechanism
Reload Speed

[?]

Weapons.meta

20

(

32

)


30
40
68

0.137
120 / 394
54
N/A
N/A

In-game Statements / Markings

N/A
N/A
N/A
N/A
N/A
N/A

Observed

N/A
440 RPM
Cannot be determined
54-round drum magazine
100-round box magazine (Extended clip)
Charging handle
N/A

Rockstar Games Social Club

[?]

Damage
Fire Rate/Speed
Accuracy
Range
Clip Size
Customizations
Grand Theft Auto V
This article contains insufficient information and is considered as a Stub. You can help the GTA Wiki by expanding it as much as you can.
Requiring improvement: Remaining Prices.
Rounds & magazine
GTA V
GTA Online (Unlock)
Rounds (108)
$50
$? (Rank 50)
Default clip (54 rounds)
Default
Default
Extended clip (100 rounds)
$362
$? (Rank 51)
Attachments
Scope (expands field of view)
$1125
$10925 (Rank 52)
Special
Yusuf Amir Luxury Finish
$39,000
$?
Tints
Black
Default
Default
Army
$100
$5,000 (Kill 100 players)
Green (Collector's and Enhanced Edition)
$200F
$5,250 (Kill 200 players)
Orange (Collector's and Enhanced Edition)
$400F
$5,500 (Kill 400 players)
LSPD
$600
$5,750 (Kill 600 players)
Pink (Collector's and Enhanced Edition)
$800F
$7,500 (Rank 50)
Gold (Collector's and Enhanced Edition)
$1,000F
$10,000 (Rank 75)
Platinum (Collector's and Enhanced Edition)
$1,500F
$12,500 (Rank 100)
F Free for players that have the Special/Collector's edition of the game.
Image Gallery
In-game
HUD icon
First-Person View
Locations
Grand Theft Auto V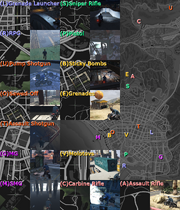 Grand Theft Auto Online
Trivia
Grand Theft Auto V
Grand Theft Auto Online
References
↑ HUD Stats


<HudDamage value="50" />
<HudSpeed value="60" />
<HudCapacity value="50" />
<HudAccuracy value="40" />
<HudRange value="60" />
Navigation
Weapons
Lists
Types
Weapons in
Categories
Related topics