Ad blocker interference detected!
Wikia is a free-to-use site that makes money from advertising. We have a modified experience for viewers using ad blockers

Wikia is not accessible if you've made further modifications. Remove the custom ad blocker rule(s) and the page will load as expected.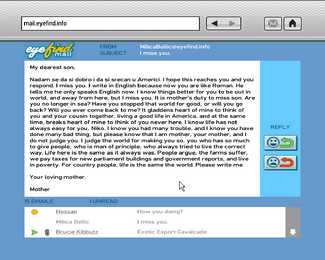 Mail.eyefind.info, also known as EyeFind Mail, is an e-mail service offered by eyefind.info in Grand Theft Auto IV and Episodes of Liberty City.
Description
Niko Bellic, Johnny Klebitz and Luis Fernando Lopez can all access the site from any computer in the game. The player only gets active emails from people after completion of the mission, Logging On. It is based on Gmail.
The e-mails can be from friends, Niko's mother, or other family members of the protagonist. E-mails can start missions, or they can just be random spam. Some e-mails are a means of communication, to add detail to important parts of the storyline or reveal information about other characters. The player can reply positively or negatively to e-mails from other characters, (these choices do not affect the storyline) but only has the delete option for spam. Selecting emails that have been replied to only have the delete option, unless it is for an Exotic Export car theft missions (in which case the car must be successfully stolen and the mission successfully completed).
Spam e-mails generally contain useless or explicit information. Some however will link to other fictional in-game websites or may refer to places in Liberty City.