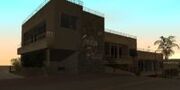 Marble Del Rancho is a housing project located in East Los Santos and is controlled by the Los Santos Vagos but share it with the Ballas. It is based on the real life Rancho San Pedro housing project in San Pedro.
Mission Appearances
Ad blocker interference detected!
Wikia is a free-to-use site that makes money from advertising. We have a modified experience for viewers using ad blockers

Wikia is not accessible if you've made further modifications. Remove the custom ad blocker rule(s) and the page will load as expected.