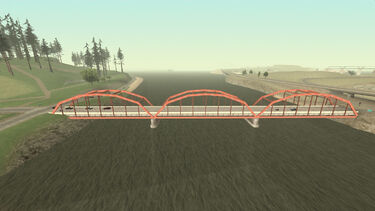 Martin Bridge is a road bridge in Grand Theft Auto: San Andreas. Designed as a relatively short orange-red tied-arch bridge, it connects the western portion of Bone County with the western portion of Red County, adjacent to The Panopticon and Blueberry Acres, and services the road that connects the town of Fort Carson in Bone County to the town of Blueberry in Red County.
It spans a narrow portion of San Andreas Sound, a body of water which separates the desert (mainly Bone County and Las Venturas) and Red County.
Ad blocker interference detected!
Wikia is a free-to-use site that makes money from advertising. We have a modified experience for viewers using ad blockers

Wikia is not accessible if you've made further modifications. Remove the custom ad blocker rule(s) and the page will load as expected.