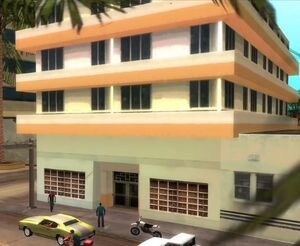 Mary-Jo's Apartment is a location featured in Grand Theft Auto: Vice City Stories.
Role
The apartment is the home of Mary-Jo Cassidy, located in Little Haiti. The apartment also becomes the home of Mary-Jo's sister Louise Cassidy-Williams and her daughter, Mary-Beth, after Louise leaves her husband, Marty. The apartment is small but comfortable and rather lush, indicating that Mary-Jo might be better off economically than her sister.
It is from this location that Louise and Mary-Jo give their missions to protagonist Victor Vance.
A Regina will usually spawn outside the apartment, presumably owned by Mary-Jo herself.
Mission Appearances
Ad blocker interference detected!
Wikia is a free-to-use site that makes money from advertising. We have a modified experience for viewers using ad blockers

Wikia is not accessible if you've made further modifications. Remove the custom ad blocker rule(s) and the page will load as expected.