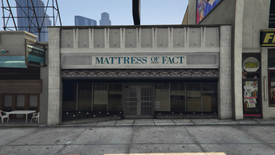 Mattress of Fact is a bedroom furniture store in Grand Theft Auto V located next to Flickers Comics and The Fish Net Restaurant on Hawick Avenue in Hawick, Los Santos. The business sells beds, mattresses, accessories and clearance items. Adding to the humor featured in other games, it is said to be established in the year 1969.
Trivia
The business' name is a play on the phrase, 'matter of fact'.
Ad blocker interference detected!
Wikia is a free-to-use site that makes money from advertising. We have a modified experience for viewers using ad blockers

Wikia is not accessible if you've made further modifications. Remove the custom ad blocker rule(s) and the page will load as expected.