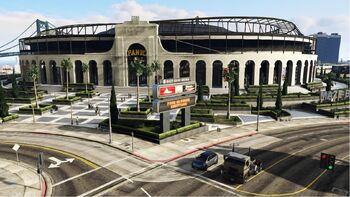 The Maze Bank Arena is a large sports arena located in La Puerta, Los Santos. It is home of the city's basketball team the Los Santos Panic, and where the auditions for the reality show Fame or Shame are held.
The stadium is presumed to have sold the naming rights to Maze Bank, which also owns the Maze Bank Tower.
Events of GTA V
In the mission Fame or Shame, Michael and Trevor travel to the arena in order to rescue Michael's daughter Tracey from the clutches of pop-sensation Lazlow. The characters chase him out of the building and pursue him through the streets and into the Los Santos Storm Drain.
Trivia
Signs
Attention: It is forbidden to smoke in these premises.
Attention visitors and personnel: In these premises are subject to search.
Gallery