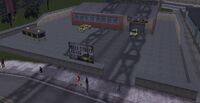 Mean Street Taxis is a taxi firm in Grand Theft Auto III, Grand Theft Auto: Vice City and Grand Theft Auto: Liberty City Stories. The firm is based in the Trenton district of Portland Island, Liberty City; but also operates in Vice City. In GTA Liberty City Stories, after completing the taxi side mission, the Bickle '76 taxi becomes available at the depot in Trenton. The telephone number of the firm is 555 TAXI (555 8294). They have a minor appearance in Vice City, as they have a small office in Little Havana next to Pizza Face, and their logo can be seen on Benches throughout Vice City, along with rival firm Sunnyside Taxis. In GTA III and GTA Liberty City Stories, they are the rival of Borgnine Taxis and LC Taxis.
Rivals
Trivia
The taxi firm also operates in Carcer City, as a billboard is seen during the first few missions of Manhunt.
Mean Streets is also the name of a Hollywood crime film directed by Martin Scorsese staring Robert De Niro and Harvey Keitel.