This article or section contains insufficient information and is considered as a Stub. You can help GTA Wiki by expanding it as much as you can.
This article concerns a game that is unreleased.
Some details may be speculative, and may turn out to be incorrect.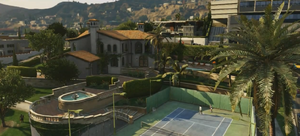 Michael's House is located in Rockford Hills, a high-class residential neighborhood in Los Santos, San Andreas. Michael lives here along with his familiy. It has a pool and a tennis court. The house is of Spanish Renaissance architecture, a style that is very popular in Beverly Hills.
Gallery