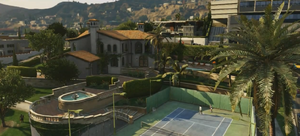 Michael's mansion is a safehouse in Grand Theft Auto V.
Located in Rockford Hills, a high-class residential neighborhood in Los Santos, San Andreas, Michael lives here along with his family. The house first appears in the mission given to Franklin Clinton by Simeon Yetarian, Complications.
It has a pool, hot-tub, and a tennis court, in which Michael can play tennis against Amanda De Santa. Attached to the house is a two-car garage. The house's interior is made up of three bedrooms and a bathroom upstairs, and a large living room, kitchen, and doors to garage/outside downstairs. The house is of Spanish Renaissance architecture, a style that is very popular in Beverly Hills.
This is the very first safehouse Michael has at the beginning of the game. Each time Michael appears in the house, certain family members will appear. For example, there will be times Michael will enter the house and find Amanda in the kitchen Drinking, outside near the pool doing Yoga, or simply sitting in the couch relaxing. The next time Michael appears in the house, Amanda might not be around, instead, Jimmy De Santa might be in his bedroom. However, Tracey De Santa very rarely appears in the house. 
Residents
De Santa family
Staff
Vehicles Parked Here
Mission Appearances
GTA V
Bugs/Glitches
Trivia
Gallery
Videos