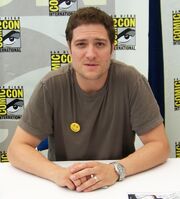 Michael Hollick (born 1973) is an American actor who has appeared in television shows such as Sex and the City and Law & Order. He provided the voice of Niko Bellic in Grand Theft Auto IV, The Lost and Damned and The Ballad of Gay Tony; his voice work in GTA IV won him the Best Male Voice Actor award at the 2009 Video Game Awards; he also starred in Homefront as part of the motion capture cast.
Trivia
When he saw the success of GTA IV, he tried to negotiate for more money, saying that he had no idea that the game would be so succesful. However, he got nothing.
He's the only voice actor in any GTA games to appear in Comic Con.
External link