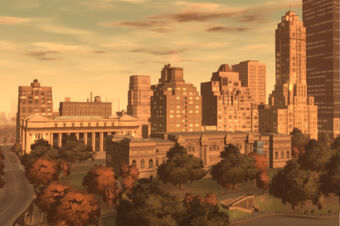 Middle Park East is a neighborhood in Algonquin, Liberty City, located along the Humboldt River, north of Hatton Gardens by Nickel Street, south of Lancaster by Quartz Street and east of Middle Park by Columbus Avenue.
Character
Middle Park East shares the same characteristics with its neighbouring districts, Lancaster and Hatton Gardens. Middle Park East contains a variety of several high-rise apartments and commercial buildings, including one of Niko's safehouses. It is assumed that many businessmen in Algonquin reside in Middle Park East, since the area is filled with businessmen walking around. Unlike Middle Park West, these two neighborhoods have opposite personalities. Middle Park West and its surrounding area are centered on the arts and culture, whereas Middle Park East and its neighbours are more focused on business and commerce.
Influence
It is based on the Upper East Side, a high-end residential/commercial neighborhood in Manhattan.
Notable Residents
Transport
In terms of Public Transportation, Middle Park East is served by two subway stations. The Quartz East station, connecting players to the Algonquin Outer Line, has entrances at Quartz Street and Albany Avenue. The second station, East Park station, is located at Columbus Avenue, at the border between Middle Park and Middle Park East.
Places of Interest
Businesses
Gallery
Trivia
Ad blocker interference detected!
Wikia is a free-to-use site that makes money from advertising. We have a modified experience for viewers using ad blockers

Wikia is not accessible if you've made further modifications. Remove the custom ad blocker rule(s) and the page will load as expected.