Middle Park East Safehouse
Talk

8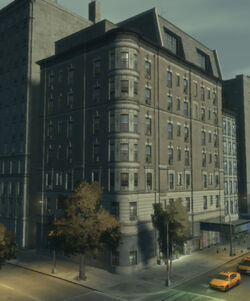 The Middle Park East safehouse, at the Albany Avenue and Pyrite Street intersection in Middle Park East, is the third or fourth Safehouse acquirable by Niko Bellic in Grand Theft Auto IV.
Getting the safehouse
Unlocked after the mission Hostile Negotiation, it is bought by Roman Bellic after he receives the insurance money from his old cab depot, which was burnt down. The safehouse is a huge improvement over the South Bohan Safehouse, and remains superior to the next safehouse.
Around the same time of acquiring this safehouse, Niko can "earn" (depending on a decision made by the player, in the mission The Holland Play) another one in Algonquin.
Amenities
The safehouse is well equipped and very modern, including a bedroom with a king-sized bed and a cow-skin carpet, a wine cellar in the back, a proper kitchen with a small island, several armchairs and leather sofa in front of a Panoramic flat-screen TV, and a laptop which can be used to log on to the in-game internet for free. There is an inacessible door like the other safehouses, which likely leads to the bathroom. The ceiling, walls, and windows show evidence of the safehouse may being an industrial loft.
The safehouse is acessible by the subway station Quartz East.
Trivia
All of the main furniture in the safehouse might be Krapea items. Krapea is a spoof of IKEA, a Swedish furnishing company. The main dining room area can be seen on a photo on Krapea's website, with "K" tags on the chairs and table.
Although it has a fully stocked wine cabinet you still have to go out to a bar to get drunk.
The safehouse is the only one in GTA IV which Internet access is available within the actual residence; while Playbox X's penthouse does have the same feature, it is only available via the security guard's computer downstairs in the lobby of the apartment.
If you look at the small couches closely, you can see that the Rockstar Logo is shown on it, however, it's very hard to notice.
Depending on the weather, when the player exits the safehouse's lobby, the weather will make an instant change. If it's sunny and bright, the weather will quickly go dark and back to normal, but if it's dark, rainy or dawn, the weather doesn't change
It is bigger than Playboy X's Penthouse in the interior.
The arguably best feature about the Middle Park safehouse is that if you have a wanted level, no matter how high, the police can't reach you once you go through the elevator into the apartment.
It is the best safehouse to save large and rare vehicles, such as the Skylift, in its parking area.
It and the Broker Safehouse are the only safehouses in Grand Theft Auto IV purchased by Roman Bellic.
Gallery