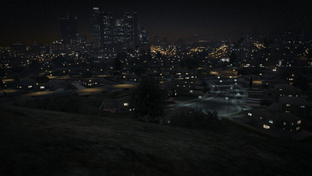 For the Radio station, check Radio Mirror Park.
Mirror Park is a suburban neighbourhood and park in Los Santos, San Andreas in GTA V. The neighbourhood borders to the Tataviam Mountains in the east, La Mesa in the west, and in the north to East Vinewood.
Character
Mirror Park is a middle-class residental district with several luxury homes located in the area. Most of the homes in the neighborhood is situated around the park or up by in the elevation, some homes are even under construction. A lot of the houses in the area are rented out by Wolfs International Realty. Biking is also very frequent in the neighborhood.
Events of GTA V
Influence
This area seems to be based on Echo Park and its adjoining neighborhood, Silver Lake. These two neighborhoods are known for having a high concentration of hipsters in residence. 
Notable Residents
Transport
Places of interest
There is several bussinesses around the area, but seems unaccesible to the player, however there is a Herr Kutz Barber accesible to the player located on Mirror Park Boulevard. Downtown Cab Co is also located in the area and can be purchased by Franklin for $200,000.
Roads and Streets
Businesses
Auto Repairs
The Banjo String
Better Oral
Chico's Hypermarket
Hearty Taco
Leroy's Electricals
Mile High Organics
Mini Retro
Mirror Fashion
Mirror Park Tavern
New Do Barber Shop
Reflex Nails
Squeeze One Out
Vinewood Sole
Collectibles
Trivia
The fictional Mirror Park seems to have a devrived name from the real life Echo Park connecting the similar properties in Physics of reflection.
Gallery
See Also