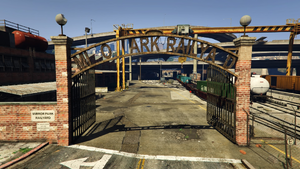 The Mirror Park Rail Yard is, as implied, a railroad yard used to store railroad cars and locomotives in Textile City, La Mesa and Mirror Park, Los Santos, east of the Dashound Bus Center. Its main entrance is located at the intersection of Little Bighorn Avenue and Integrity Way. It might be partially based on the Hobart Rail Yard in Los Angeles.
Events in GTA V
Events in GTA Online
Ad blocker interference detected!
Wikia is a free-to-use site that makes money from advertising. We have a modified experience for viewers using ad blockers

Wikia is not accessible if you've made further modifications. Remove the custom ad blocker rule(s) and the page will load as expected.