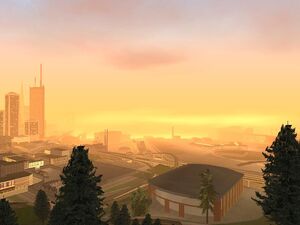 Missionary Hill is a district of San Fierro, San Andreas. It is located at the very southern tip of the city, abutting Avispa Country Club. To the south is the massive Mount Chiliad; to the north are Ocean Flats, Garcia and Doherty; and to the east is Foster Valley.
On the northern slope of Missionary Hill lie Avispa Country Club's golf greens and Hashbury Park. At its peak is a radio tower designed to closely resemble Sutro Tower, which is located in the Twin Peaks district of San Francisco. The Radio Tower is the tallest structure in San Fierro and the State of San Andreas. The peak also offers numerous opportunities for viewing the city and its surrounding landscape.
One note is that the peak of Missionary Hill is the finish line/end point of the Beat the Cock Triathlon in which the player can make CJ enter. It can be entered next to the lighthouse in Santa Maria Beach, Los Santos.
Stationary vehicles
Collectibles
Trivia
The name is probably a homage to the '90s cult TV animated series "Mission Hill", or the "missionary" sex position.
The name may also be a reference to the Mission Hills Golf Club in China.
It is the highest hill within an urban city which is San Fierro in Grand Theft Auto: San Andreas.
Missionary Hill is based on Mount Sutro in San Francisco. Unlike in GTA San Andreas however Mount Sutro is fully covered by a thick forest of trees.