Mmm, Russian Sailors!
is the second mission given to
Claude Speed
in
Grand Theft Auto 2
by the
Russian Mafia
. It is given from the
Industrial District
in
Anywhere City
.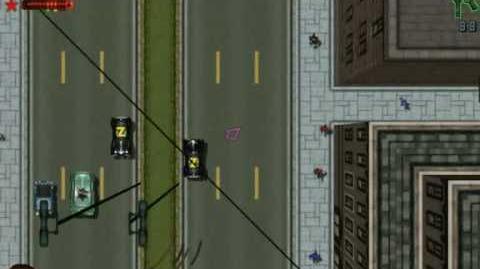 Objectives
Find parked Z-type,Find and kidnad 4 Z-Dealers.Deliver them to the Crane.
Walkthrough
If you don`t have negative reputation in Zaibatsu Corporatin,this mission will be very easy.First you must find parked Z-Type.Pink arrow will show Z-Dalers` location.This Places are:
Train Station in Bayano
Hospital in Bayano
Escobar Power Cores (if Zaibatsu hate you,prepare for extermination in most brutal and humiliating manner,there are hordes of them and they have Rocket Launchers!)
Last Z-Dealer in Senora.
Once all Z-Dealers in the car,deliver them to the Crane and enjoy the show.You will get 40.000.
This article or section contains insufficient information and is considered as a Stub. You can help GTA Wiki by expanding it as much as you can.