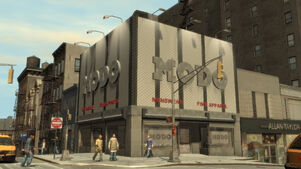 Modo is a clothing store located in East Holland, Algonquin in Grand Theft Auto IV, that primarily sells sportswear and casual clothing. The store is also present in Grand Theft Auto: Chinatown Wars, but it is inaccessable. It is one of only three clothing chains where the player can purchase clothes in GTA IV, the other two being the Russian Shop and Perseus, and is considered a "mid-range" clothing outlet of the three.
Kate McReary and Carmen Ortiz prefer Niko to wear clothes from Modo.
Appearance
Modo's presentation is generally simple but tidy, with neatly organized rows of wardrobes. The cashier is a well-dressed young man named Mike, who comments that Niko looks like he was "in a Binco explosion", or was a past resident of Alderney, if Niko walks into the store wearing non-Modo clothing.
The cashier can be scared off if Niko physically attacks him or threatens him. Money can be also taken from the cash register; this will attract a 1-star wanted level.
Clothing
Tops
Pants
Shoes
Item
Price
Item
Price
Item
Price
Item
Price
Dark Knit
$100
Striped Shirt
$80
Jeans-
Stonewashed
$100
Tennis Shoes-
White
$85
Brown Knit
$100
Silk Shirt
$80
Jeans-
Black
$100
Tennis Shoes-
White & Brown
$85
Striped Knit
$100
Plaid Shirt
$80
Jeans-
Blue
$100
Tennis Shoes-
White & Red
$85
Ski Jacket-
Black
$100
Golf Jacket-
Gray
$200
Brown Pants
$100
Moccasins-
Brown
$85
Ski Jacket-
Gray
$100
Golf Jacket-
Green
$200
Chinos
$100
Moccasins-
Black
$85
Ski Jacket-
Brown
$100
Golf Jacket-
Sand
$200
Chinos-
Black
$100
Moccasins-
Gray
$85
Trivia
Modo could be a reference to the Turkish, Polish, Spanish, Portuguese, Romanian, Bulgarian and Serbo-Croatian word "moda" which means "fashion".
You can rob Modo, by pressing LB on Xbox 360 or L1 on PS3, you will get about 100 dollars. But you will get an automatic 1 star wanted level.
Although you will usually get $100 as mentioned above, you can still get between $9-$199 as usual.
Modo is the only accessible location besides the Bank of Liberty in the campaign mission Three Leaf Clover that has an alarm system.
It is odd that you can fire gunshots and even kill the cashier and the alarm will only go off if the player opens the cash register.
Modo is believed to be based on the famous clothing retail chain H&M.
Gallery
External links
See Also