You may be looking for Mona, a prostitute in Grand Theft Auto: Vice City Stories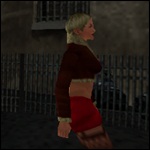 Mona Lott is a playable character in the multiplayer games in Grand Theft Auto: Liberty City Stories. She takes the model of the blond-hair prostitute that is seen in game, notably in the Red Light District.
Trivia
Her name is derived from the words moan a lot.