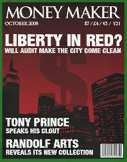 Money Maker is a magazine in the HD Universe.
Description
The magazine is about, as its name says, making money and people who are rich. Brucie Kibbutz starred on the front page of the magazine once in 2008. The topic of that issue was " How to spend it wisely".
Trivia
The usage Brucie's image on featured topic is rather paradoxical, since Brucie often spends lots of money on unnecessary things.
Ad blocker interference detected!
Wikia is a free-to-use site that makes money from advertising. We have a modified experience for viewers using ad blockers

Wikia is not accessible if you've made further modifications. Remove the custom ad blocker rule(s) and the page will load as expected.