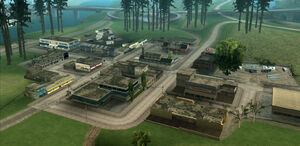 Montgomery is a small town located in northern Red County, just three miles from Bone County, San Andreas. It is connected to the Montgomery Intersection which connects it, via a major highway, to Las Venturas to the north and Los Santos to the south. It is either named after Nicholas Montgomery, the cutscene supervising sound editor for the game, or Lee Montgomery, who did interior environment art, or perhaps both. There is a sign just outside Montgomery that says the town's population is 3,623; however, this is highly unlikely due to the small size of the town. Montgomery has a realistic population size of around 146 inhabitants in 1992. Montgomery is unique from other towns in Red County because it lacks any official housing for its residents to live; instead, there are two trailer parks and many apartments located above the businesses in town. Montgomery is an essential hub in Red County due to its central location, medical center, and many businesses.
Businesses and Locations
Edit
MP5 - At the back of the burned down building
Satchel Charge - In an alleyway beside the Inside Track building
In Grand Theft Auto IV, a female user known as "damagewisd0m" of Myroomonline.net is from Montgomery, Red County.
This is the only town in Red County where the player is unable to purchase a safehouse.
The town's name is a possible reference to Montgomery, Alabama, one of the towns where Hank Williams Sr. (whose song "Hey Good Looking" can be heard on K-Rose) lived.
There is a biowaste well behind the hospital.
The hospital in town is the only medical care facility in Red County, and in some instances it would be more timely for citizens of Las Venturas to seek care here due to its close location to the city.
The tallest structure in town is the rotating can atop the Sprunk sign.