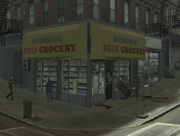 Moonshine Deli Grocery is a deli store located in The Triangle, North Holland and Purgatory, Algonquin. According to its storefront, the business sells hot and cold sandwiches, cold beer, sodas and cigarettes. Outside the store, an ice vending machine and a trolley carrying cardboard boxes are noticeable. The name of the business could be a reference to Moonshine, an extremely illegal high-proof alcoholic beverage.
Ad blocker interference detected!
Wikia is a free-to-use site that makes money from advertising. We have a modified experience for viewers using ad blockers

Wikia is not accessible if you've made further modifications. Remove the custom ad blocker rule(s) and the page will load as expected.