This article or section contains insufficient information and is considered as a Stub. You can help GTA Wiki by expanding it as much as you can.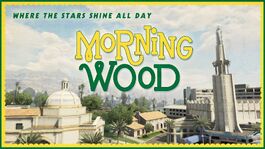 "Morningwood is known to be one the cleanest [sic] and safest neighborhoods in Los Santos, which still means that it's filthy and dangerous by most standards. It has a vibrant, ever-changing shopping district, because most stores go out of business in six months when they can't afford the rent."
―GTAV digital manual
Morningwood is a neighborhood in Los Santos, San Andreas.
Character
Events of GTA V
Influence
The neighborhood is based of Westwood.
Notable residents
Transport
Roads and Streets
Places of interest
The corner of Morningwood Blvd and Cougar Ave has a couple of real-life landmarks.
Businesses
Collectibles
Trivia
Morningwood is a slang term for an erection after waking up.
Gallery