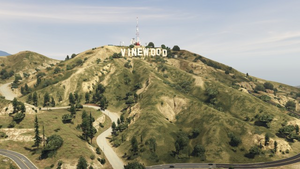 Mount Haan is a peak in Grand Theft Auto V, located in Vinewood Hills, north of Los Santos. It is bordered by Mount Haan Road, Baytree Canyon Road and Marlowe Drive. Its main point of interest is the Vinewood Sign, which can be accessed from Mount Haan Drive.
It is based on Mount Lee, a 1,708 ft (521 m) peak in the Santa Monica Mountains, California.
Ad blocker interference detected!
Wikia is a free-to-use site that makes money from advertising. We have a modified experience for viewers using ad blockers

Wikia is not accessible if you've made further modifications. Remove the custom ad blocker rule(s) and the page will load as expected.