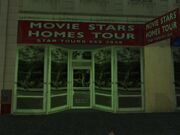 Movie Stars Homes Tour is a store located on Vinewood Boulevard in Market, Los Santos, San Andreas. It is beside the El Dritch. Movie Stars Homes Tour is inaccessible to the player and plays no role in the storyline whatsoever. Their phone number is 555-3858.
Ad blocker interference detected!
Wikia is a free-to-use site that makes money from advertising. We have a modified experience for viewers using ad blockers

Wikia is not accessible if you've made further modifications. Remove the custom ad blocker rule(s) and the page will load as expected.