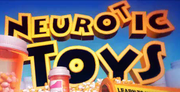 Neurotic Toys is a non-viewable movie in Grand Theft Auto V. Motto of this movie "learn to worry" continues its name. 
Description
It is playing at the Astro Theaters in Del Perro and the Oriental Theater in Vinewood, Los Santos, during the events of the game. The film is produced by Fred's Pictures.
Influence
It is most likely a parody of the Toy Story movies.