The News Chopper, also known as the News Maverick and News Helicopter, is a helicopter appearing in Grand Theft Auto: San Andreas. The helicopter is essentially the same as the VCN Maverick introduced in Grand Theft Auto: Vice City.
Description
The News Chopper is a 2 door "shortened" Maverick helicopter with SAN News markings. The vehicle is harder to fly than the Maverick due to its freer controls and can flip over whilst in the air.
There are only two ways of obtaining a News Helicopter in GTA San Andreas: the first is to start and fail the Whirly Bird Waypoint race and the second is obtained with a four star wanted level and attempting to hijack one that flies close to the player. It is easier to steal as it flies closer to the player.
Grand Theft Auto: Vice City has its own version of this helicopter called the VCN Maverick. The VCN Maverick is obtainable through third party trainer programs in Grand Theft Auto: Liberty City Stories and Grand Theft Auto: Vice City Stories. It is worth noting the internal name of the News Chopper in GTA San Andreas is "vcnmav", suggesting GTA Vice City's VCN Maverick is reused for the News Chopper. The registration number on the tail of the helicopter is also identical to the one seen on the VCN Maverick.
Locations
GTA San Andreas
Trivia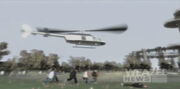 Before the game's release, the News Chopper was a VCN Maverick.
If the player destroys a News Chopper, no more will come; instead, more Police Mavericks will. To have a second News Chopper arrive, the player must lose and then acquire a four-star wanted level again.
It is possible that this helicopter was cut from the final version of Grand Theft Auto IV; a Maverick with a Weazel News ad can be seen on Television.