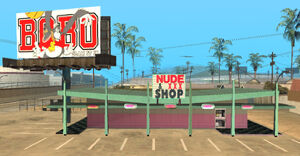 Nude & XXX Shop is a network of pornography stores located in San Andreas.
Description
There are three shops in the state: one is located underneath a Bobo advertisement, near Cesar Vialpando's house in El Corona, Los Santos, one in Market, Los Santos between Jim's Sticky Ring and a Cluckin' Bell, and one next to a Cluckin' Bell restaurant in Old Venturas Strip, Las Venturas. All stores are inaccessible to the player and play no role in the storyline whatsoever.
Collectibles
One gang tag on the building in El Corona.
Gallery