---
---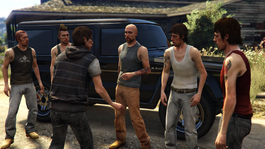 The O'Neil Brothers are characters in the Grand Theft Auto series, appearing as minor characters in Grand Theft Auto V.
Description
The O'Neil Brothers are a family of inbred, hillbilly, redneck meth dealers in Blaine County. They are familiar with Trevor Philips, a drug and arms dealer also based in Blaine County with his own company, Trevor Philips Enterprises, whom the O'Neil Brothers are rivals with.
After some potential clients, the Los Santos Triads, decide to work with the brothers instead of Trevor, the O'Neil ranch is attacked by Trevor, who kills most of the family, save Elwood and two other brothers who left before the attack, and destroys their ranch by blowing up the meth lab in the basement.
The remaining O'Neil Brothers are later hunted down by Trevor and his two associates, Michael De Santa and Franklin Clinton.
Outside of missions, members of the O'Neil gang can be found around Blaine County specifically the Grand Senora desert scrapyard and many trailers. They are hostile to player like many other gangs. They may also be found during arms trafficking missions, described by Guzman as "local dealers", though it is possible that these may be some other sort of redneck gang.
Members
Walton
Wynn
Ernie
Earl
Dale
Doyle
Daryl
Dan
Mission appearances
GTA V
Trivia
Trevor incorrectly lists Dalton and Don as two of the O'Neil Brothers in "Predator".
Gallery