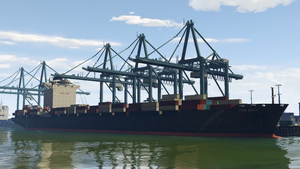 The Ocean Motion is a cargo ship in Grand Theft Auto IV and Grand Theft Auto V.
Description
In GTA IV, the ship is located in Port Tudor, Alderney near a boat named Octopus. In GTA V, it can be found in the Terminal district of the Port of Los Santos, in San Andreas. It is located just feet away from the Daisy Lee, another cargo ship.
Mission Appearances
Grand Theft Auto Online
Gallery
See Also
Ad blocker interference detected!
Wikia is a free-to-use site that makes money from advertising. We have a modified experience for viewers using ad blockers

Wikia is not accessible if you've made further modifications. Remove the custom ad blocker rule(s) and the page will load as expected.