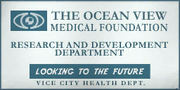 Ocean View Medical Foundation is a medical facility in Ocean Beach, Vice City, in 1984 and 1986. Two are located right beside each other, and are across from the Marina Sands Hotel. The building is inaccessible to the player.
Pickups
GTA Vice City
One rampage: On top of a grassy platform on the right side of the first building.
One hidden package: Behind the first building.
Gallery