This article needs more images of:


Table images.




You can help by adding some relevant images or discussing changes on the talk page.
Please remove this template when images are added.
Note: Please remember to follow our image policy in naming and licensing before adding images.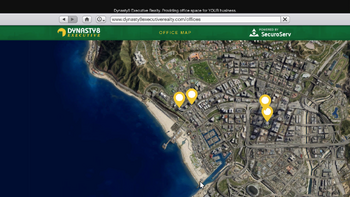 Offices are purchasable properties in Grand Theft Auto Online added as part of the Further Adventures in Finance and Felony update.
Description
Multiple office locations can be purchased from Dynasty 8 Executive, with optional extras such as Gun Lockers, Money Vaults, or Accommodation. The offices have customizable interiors, with a selection of 9 different interiors for each office ranging in price.
Each office has a main entrance where the receptionist is found at his/her (gender optional upon purchase) desk, to whom the player can go to to request numerous abilities, including delivery of personal/Pegasus vehicles, or ordering free snacks.
If the player elects to install Accommodation, the office will receive a mostly empty room with a wardrobe and bed, allowing the player to change clothes and lie down.
A Computer can be found on the CEO desk where special cargo, vehicle cargo, special vehicle missions can be accessed.
Stacks and rolls of money will accumulate on and around the player's desk, depending on the player's personal savings. Some of the Cargo the player collects will also appear in the office scattered throughout as well. In addition, a SecuroServ statue can be placed on the player's desk once a certain number of special cargo pickup missions have been completed. For example, successfully completing 50 missions rewards the player with a basic black statue. Only 1 crate has to be delivered in a mission for it to be counted as successful.
With the addition of the Import/Export update players can now buy a garage expansion within the same building that they can customize like an office and buy space to add up to 60 cars.
Offices
| Offices | Images | Locations | Price | In-game Descriptions |
| --- | --- | --- | --- | --- |
| Maze Bank West | | Del Perro | $1,000,000 | "Maze has been the target for more boycotts, demonstrations and civil rights lawsuits than any other bank in America. Access to that wealth of experience doesn't come cheap, but a good education is an investment worth any price." |
| Arcadius Business Center | | Pillbox Hill | $2,250,000 | "The City within the City, the Arcadius Business Center boats more AAA hedge funds, smoothie bars and executive suicides per square foot of office space than any other building in the business district. Welcome to Cutting edge." |
| Lombank West | | Del Perro | $3,100,000 | "In a radical new step towards diversification of the banking sector. Industry giant Lombank is selling office space to results-driven, high-liquidity kill squads and drug cartels. Be part of the change our financial industry needs." |
| Maze Bank Tower | | Pillbox Hill | $4,000,000 | "The building that defined the LS Skyline for a generation. Taller, Classier, more opulent, more shamelessly phallic, less structurally sound - you name it, the Maze Bank Tower is best in class." |
Customizations
Interiors
| Interior | Image | Price | Description |
| --- | --- | --- | --- |
| Executive Rich | | FREE | Default interior |
| Executive Cool | | $415,000 | |
| Executive Contrast | | $500,000 | |
| Old Spice Classical | | $685,000 | |
| Old Spice Vintage | | $760,000 | |
| Old Spice Warms | | $950,000 | |
| Power Broker Conservative | | $835,000 | |
| Power Broker Polished | | $910,000 | |
| Power Broker Ice | | $1,000,000 | |
Assistant
| Gender | Images |
| --- | --- |
| Male | |
| Female | |
Extras
| Name | Images | Price | In-Game Description | Description | Note |
| --- | --- | --- | --- | --- | --- |
| Organization name | | Free/$250,000 | none | The Organization's name | Free when first purchasing an Office but costs $250,000 when changing afterwards. 13 font options and 8 colour options. |
| Money Safe | | $335,000 | "Forget the banks - you know what's actually too big to fail? A huge pile of hard cash in a secure safe on the 50th floor. just close the door, dim the lights and discover that $100 bills are surprisingly comfy and absorbent." | Money safe in a hidden compartment behind the CEO's desk. | Purely cosmetic, but the amount of money shown in the safe depends on how much the player has in the bank with a maximum of $1 million. |
| Gun Locker | | $520,000 | "Tired of bringing your knife every gunfight? Next time only take what you won't live without, and leave the rest back at base in this secure locker." | Weapon locker in a hidden compartment behind the CEO's desk. | Allows the player to set a custom weapon loadout out of their currently owned weapons. Can be disabled in the Interaction Menu. |
| Accomodation | | $795,000 | "A burgeoning crime syndicate demands late nights and early mornings, Your secretary requires extensive after-hours personal training free of charge. You need somewhere to black out with a bellyful of tequila and junk lite. The answer is simple: add furnished living quarters to your office, kill your commute, and make time for the important things in life." | Expanded living quarters for the CEO. | Allows access to amenities such as a wardrobe, bed, toilet and shower and allows the player to set the Office as their spawn point. |
Office Garages
Office Garages are an expansion upon Offices added to Grand Theft Auto Online as part of the Import/Export update. They are multi-story garages that can store up to 20 cars per garage, with a maximum of 60 for an office.
Gallery
Interiors
Other
Trivia
All custom interiors will result in the assistant's hair and clothing changing in color and/or style.
Videos
Ad blocker interference detected!
Wikia is a free-to-use site that makes money from advertising. We have a modified experience for viewers using ad blockers

Wikia is not accessible if you've made further modifications. Remove the custom ad blocker rule(s) and the page will load as expected.