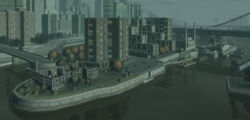 In Grand Theft Auto IV and Grand Theft Auto: Chinatown Wars, the Old Hospital refers to the ruins of a former hospital on the south end of Colony Island in Algonquin, Liberty City. The name of the hospital is derived from "The Snow Storm", a mission in GTA IV that takes place at the hospital.
Description
Based off the remains of the Smallpox Hospital in Roosevelt Island (as known as the Renwick Ruin), the Old Hospital is a gutted building with all the upper floors of the building collapsed and crumbling walls; the hospital can be also entered by its open top, making the Old Hospital very unique from other buildings in Liberty City.
In GTA IV's multiplayer Free Mode, the hospital can be used by players to organize SWAT training, tactical entry training, or ambushing. Police oriented clans (or teams) on multiplayer often train recruits in this building for its tight corners, open rooms, careful advancements, and long hallways.
Myths and Legends
Players say the Abandoned Hospital is haunted by the ghost of a patient who died in the Hospital before it became abandoned. According to reports objects can be seen floating or even moving on their own there. Many who claimed they saw a shadow crossing one of the rooms while there. The Ratman's blood can also supposedly be found on the roof top. See more about that myth at the GTA-Myths Wiki.
Trivia
A prostitute can be seen sitting on a couch inside that hospital.
In the same room, sometimes a hospital chatter may be heard.
If you're ever in need of health and near Colony Island, go into the hospital, as there will be at least one first aid kit. When you get in the hospital, turn left and walk there until you see it.