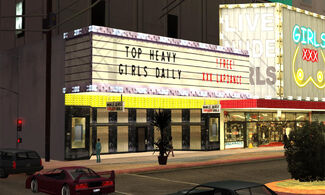 The unnamed Old Venturas Strip strip club is a strip club in Grand Theft Auto: San Andreas located on the southeastern corner of the Old Venturas Strip in Las Venturas, San Andreas. The club is identifiable by the "Top Heavy Girls Daily" and "!Free! XXX Lapdance" text on its marquee. If directed to go there during a Taxi Driver side mission, it is identified as "Topless Girls of Bush County". The club is inaccessible to the player and plays no role in the storyline whatsoever.
Description
The club is perhaps the only inner city strip club in San Andreas, being located within a historical but still bustling portion of the Las Venturas gambling district, which, by GTA San Andreas circa 1992, has partially become a glorified red light district in the city. Being based in a large building, the Old Venturas Strip strip club shares the same roomy interior as the similarly large Pig Pen in Los Santos.
As is with any functional strip club in the game, players can throw money to dancers on the stages or receive private lapdances in a backroom (see strip club article for details on features).
Trivia
Even though it is implied that the women in that club are topless, they are, like in every strip club, not topless.
Ad blocker interference detected!
Wikia is a free-to-use site that makes money from advertising. We have a modified experience for viewers using ad blockers

Wikia is not accessible if you've made further modifications. Remove the custom ad blocker rule(s) and the page will load as expected.